Si vous ne vous étiez jamais posé la question, sachez que ce mystère a tourmenté l'un des fans ultimes de Friends. Une étude totalement inutile et donc foncièrement indispensable !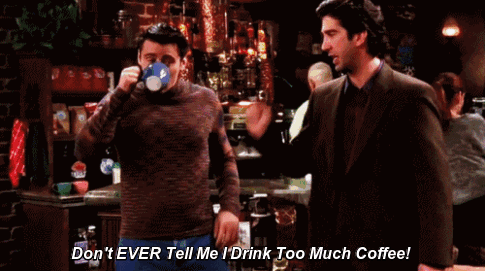 Ahhh, Internet. Cet endroit merveilleux où quelques acharnés sont capables de compiler toutes les morts de Game of Thrones en une vidéo… D'autres se sont mis en tête d'estimer la quantité de café que nos six potes de Friends se sont envoyée en dix saisons. La réponse ? Beaucoup ! Des litres et des litres. Mais là où les choses se corsent, c'est quand il s'agit de déterminer lequel ou laquelle en a ingurgité le plus. Vous pouvez remercier Kit Lovelace (@kitlovelace), fan absolu qui s'est fendu d'une analyse en profondeur et nous a pondu un bien joli graphique pour concrétiser le résultat de ses recherches.
Digging through old stuff, just found my results from the time I went through all 236 episodes of Friends to see how much coffee they drank. pic.twitter.com/4Kg7QO0mA6

— Kit Lovelace (@kitlovelace) June 27, 2017
Pour cela, l'internaute a rematé les 236 épisodes de Friends, un petit calepin et un crayon à la main, et surtout avalé des litres de cafés pour tenir le coup (c'est comme ça qu'on imagine la scène en tout cas). Non seulement il a réussi à déterminer qui des six amis est le plus grand buveur de caoua, mais Kit Lovelace a aussi disséqué l'apport en caféine pour chacun… et par saison !
Globalement, c'est Phoebe qui remporte la palme sur toute la série, avec 227 tasses bues, versées ou commandées. Cependant Chandler se distingue, avec le record inégalé de 36 mugs de cafés sirotés dès la saison 1. Comme le montre son deuxième graphique, leur consommation a plongé au fil des années. Sauf pour Rachel, qui a eu un regain d'intérêt pour le breuvage avant de nous dire adieu.
Moreover, I then went ahead and broke it down season by season to see how their habits developed and changed over time... pic.twitter.com/IoJ1lDNnpv

— Kit Lovelace (@kitlovelace) June 27, 2017