Good God, Lemon! On donnerait TOUT pour une série qui célébrerait la rencontre entre Liz Lemon et Leslie Knope.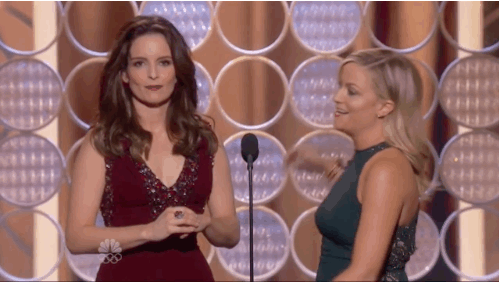 OK, c'est la crise, en pleine Peak TV, et il faut la jouer safe. Mais faut pas nous chauffer sur les reboots, spin-off et autres resucées opportunistes de vieux standards sériels. À une exception près. Présente sur le tapis rouge des Tony Awards, ce dimanche 10 juin aux États-Unis, Tina Fey a déclaré être partante pour un crossover entre son héroïne de 30 Rock, Liz Lemon, et celle de Parks and Recreation, Leslie Knope, interprétée par sa BFF dans la vraie vie, Amy Poehler.
C'est au micro de l'émission Entertainment Tonight que la scénariste et comédienne a balancé cette bombe, détruisant, au même moment, tous nos espoirs de voir un jour un reboot de 30 Rock, la série qu'elle a portée sur ses épaules de 2006 à 2013 sur NBC. Cela ne se fera probablement pas, mais séchez vos larmes puisque Tina Fey a une bien meilleure idée :
"Amy est partante pour faire un reboot de Parks and Rec. […] Peut-être qu'on devrait juste faire un spin-off sur Liz Lemon et Leslie Knope."
Pour reprendre les mots d'Amy Poehler, qui ont servi de titre à son autobiographie : YES PLEASE! Peu de crossovers peuvent en effet se targuer d'avoir autant de sens. Une rencontre entre les deux stars de ces "comédies de bureau" serait une telle évidence !
Pour ce qui est d'un potentiel retour de Parks and Recreation, la cocréatrice du show et Nick Offerman, l'interprète du légendaire Ron Swanson, ont récemment déclaré que cela pourrait se faire… à une condition : "On en parlait plus tôt, et on se disait que si Beyoncé vient jouer le rôle de la maire, on le fait !" Mais blague à part, Amy Poehler semble envisager très sérieusement de nouvelles aventures se déroulant dans la petite ville de Pawnee :
"Je parle au nom de tous et toutes en disant qu'on serait partant·e·s. J'espère vraiment que nous le ferons un de ces quatre, ce serait génial !"
C'est le moment d'envoyer des lettres de chantage à NBC !